Today's rounds
Cameron Huss, Kenosha and Ty Kretz, Marinette. It should come as no surprise that the winners of two of Wisconsin's premier men's amateur championships this year had two of the steadiest rounds during Monday's first round of the 122nd Wisconsin State Amateur Championship.
Where it goes from here remains to be seen, but Huss, winner of last month's Ray Fischer State Amateur Championship in Janesville, and Kretz, winner of the Wisconsin State Match Play Championship, followed the supposed blueprint for success over the next three days at Erin Hills.
Huss, a rising senior at the University of Wisconsin who began his round on No. 10, made four birdies and two bogeys in his 2-under-par 70, going bogey-free over his final 11 holes to get there. Kretz, a rising junior at South Dakota State, matched Huss' birdie and bogey totals, going out in 2-under 34 and coming home in even-par 36 to shoot his 70 and finish the first 18 holes one stroke from the lead shared by Jack Schultz of Milwaukee and Zach Place of Roselle, Ill.
"It's been a little wonky at times hitting balls all summer with my irons," Huss said. "But I drive it really well, which helps especially out here. If you're on every fairway, you can score."
Kretz managed to do just that despite having to send his father, Pete, to Golf Galaxy in Brookfield to get a replacement head for his driver after breaking the one he brought to Erin Hills during a practice round Sunday.
"I hit the ball solid all day; I think I missed two fairways," Kretz said. "I bogeyed two par-5s, so it was a real battle on the par-5s today. … The par-5s out here are no gimmes. Most of them you can't get to in two; they are into the wind Once you get there the greens are super hard too.
"This course is demanding on all parts of your game."
Shot of the day
Alex Koenig, Wales. There were seven eagles recorded during the opening round of the State Am (four of them on the first hole), but the three-time WIAA Division 1 qualifier at Kettle Moraine went to the top of the leaderboard with his in the third-to-last group of no. .1 in the morning wave. Koenig, who will attend UW in the fall but does not play golf, hit his second shot of the day, a 4-iron from 240 yards, to 10 feet and made the eagle putt to temporarily take the lead at 2-under. Eight bogeys, two birdies and seven pars later, he would post a 4-over 76.
Best start
Jack Shultz, Milwaukee. The four-time Wisconsin men's amateur player of the year took it to Erin Hills like no other in the field Monday.
Schultz, playing in the afternoon wave, started his opening round on No. 10 and went birdie-birdie, parred Nos. 12 and 13 and then went birdie-par-birdie to help him win 4-under. At that time, no one had even reached 3-under.
That was the good news. The bad news for Schultz was that the back nine was a bit more uneven as he made three bogeys and two birdies, the last on a 20-foot putt on the par-3 ninth hole. He shot a 3-under 69 to share the first-round lead with Northern Illinois golfer Zach Place.
"I'm talking about the mental attitude that I have that's different, I've gotten pretty good at not thinking, 'Oh, man, I'm 4-under,' and really being able to just hit one shot at a time," Schultz said. "A big part of it is that I think I know what my swing is going to do, which is something I've never really had."
Best finish
Zach Place, Roselle, Ill. It's not being AWOL on a State Am leaderboard as a fifth-year senior at Northern Illinois University. He has finished in the top 20 in all three he has played, including a pair of top-five showings highlighted by a T-3 finish a year ago at Sand Valley Golf Resort near Nekoosa.
But the top of the leaderboard was exactly where Place wasn't after following up an eagle-bogey-par-birdie start with three bogeys over his next five holes to turn in a 1-over 37. The back nine was a different story as he played it in 4-under 32 highlighted by a birdie at No. 12, his second eagle of the day at No. 14 and a 20-foot putt for birdie at No. 18 to catch Schultz and take a share of the lead into Tuesday's second round.
"I got off to a good start with an eagle on the first (hole), but followed it up with a bad drive on No. 2," said Place, who hit a 2-iron from 260 yards to 12 feet for par. -5 14th hole to start his back nine. "It wasn't as far into the wind as it was for some of the other guys. We got kind of a lucky break and I hit my shot right up the slope and it came down. I'm thankful for that."
Hardest hole
No. 7. Although the 570-yard, par-5 gave up two of the seven eagles recorded Monday (to Blake Wisdom and Matt Ellis), this 570-yard, par-5 proved threatening to most of the field. It yielded just 16 birdies, 69 pars, 60 bogeys and eight double bogeys.
Easiest hole
No. 13. The 190-yard, par-3 hole allowed just five birdies, but 85 golfers (more than half) walked away with pars. There were 59 bogeys and seven double bogeys, but nothing worse than that.
Today's state
The featured group of Jack Schultz, Cameron Huss and Garrett Jones was the only one not to have a caddy in the whole group. They combined to play Erin Hills at 3-under on opening day.
Photo of the day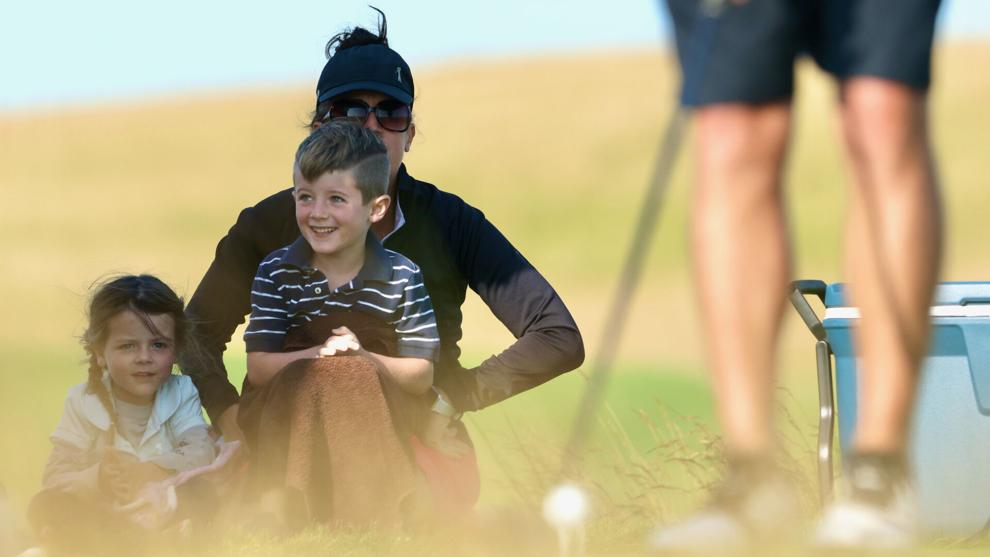 THE SWEET SPOT AT STATEN AM
A sweet conversation with … Tony Romo
Excuse me, Mr. Stricker, may I play through?
Kaeden Nomm of Minocqua, who opened with an even-par 72 for a share of fifth place, is a member of the Minocqua Country Club, which happens to be one of Steve Stricker's favorite summer retreats.
Stricker, also a Minocqua CC member, often shows up with wife Nicki and daughters Bobbi and Izzi between PGA Tour Champions events for some casual family golf.
"Love seeing him out there," said Nomm, who also works at the club. "He plays a lot with his family. I see him from time to time. He is super sweet, always kind to our people. Love when Stricker comes."
The Sweet Spot asked Nomm if he ever worked up the nerve to ask to play with Stricker. Not quite. But Nomm has played through the Stricker family.
"I played through him once when I was about 10 years old," he said. "I was so nervous. I made a couple. I was so happy about it. I still remember it to this day. I always play super fast when I play golf and he takes more time. That's probably why he is a good player."
Well, at least that's one reason.
Defending champion Tyler Obermueller feels his way to 76
Tyler Obermueller of Hudson, the defending state amateur champion, opened with a 4-over 76. Not bad, considering he had only played "four or five" rounds of golf this year.
"I coached high school (junior varsity) golfers in Hudson and I have some shoulder issues so I didn't play my first round until June," he said. "I just played a little member-guest at the weekend in Troy Burne just to get some reps in. If it was ugly there I wouldn't even come, to be honest.
"I came in here with less expectations than I had last year."
Obermueller noted that he opened with a 74 last year at Sand Valley and went on to win.
"Kind of the same place as last year," he said. "Just going to put a few solid rounds together and see what happens."
Etzel off to a good start? Yes
Parker Etzel of Eau Claire, playing in his first state amateur, prepared for the state amateur by…climbing the Eiffel Tower?
Well, yes, sort of. Etzel returned home last Thursday from a week's family vacation in Paris. No, he didn't bring his clubs.
"I got back Thursday afternoon so I had about two days to prepare for this," said Etzel, who shot a 74. "So I really just went in to try to have fun and it was a bonus to play well today. . . (France) was a nice break from the craziness of golf."
Etzel, a 2023 Eau Claire Memorial graduate, is headed to the University of South Dakota in a few weeks.
Cross tees
It's shaping up to be a race to the finish on Tuesday for the Yule Cup team competition. The team from Brown Deer Park GC in Milwaukee — Schultz (69), Marquette golfer Josh Robinson (73) and Marquette assistant coach Jace Long (78) – combined to shoot 220 to tie with a team from University Ridge GC in Madison – Huss (70), former Badgers golfer Max Schwarz (73) and UW assistant coach Ross Thomson (77). They were seven shots ahead of the next-closest teams who entered Tuesday's final in the side competition featuring 17 teams from 16 clubs. … Two-time State Am winner and defending champion Tyler Obermueller bested the six former champions in the field with a 76. … With a 2-over 74, Middleton's PJ Murphy, 59, bested the nine senior golfers in the 156-player field who completed the first round. A 10th-ranked senior, Waukesha's Kevin Cahill withdrew after 10 holes due to a knee injury. … Madison's Ben Gillesa former UW-Green Bay golfer and one of about half a dozen Erin Hills caddies in the field, took a creative route to his 3-over 75. He bogeyed No. 2, then rattled off 14 straight pars before making a double-bogey on his penultimate hole of the day, the 431-yard 17th.