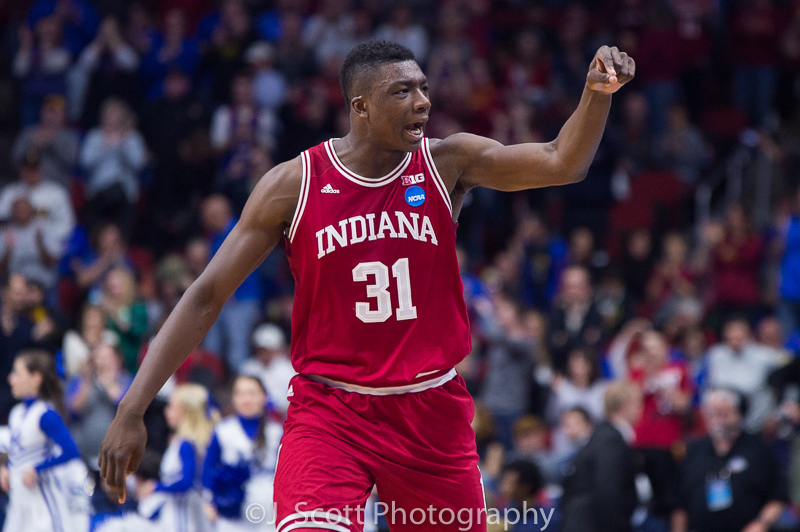 6-Bannersøndag is Inde i Hallen's weekly newsletter in collaboration with The assembly call. Nearly 10,000 Indiana fans receive the newsletter each week. In addition to appearing each week on the site, you can also choose to receive 6-Banner Sunday via email. A form to subscribe by email is available at the bottom of this week's 6 Sunday banner.
Welcome to another edition of 6-Banner Sunday, a joint production between The assembly call and Inside the halland presented by our friends at Trueblood Real Estate Agentwhere we highlight the five most essential IU basketball stories from the past week, plus take a look at how the other IU sports programs are doing.
While the Hoosiers themselves didn't play, a couple of former IU stars did, and one of them has newfound jewelry to show for it. While Indiana players played for an NBA title in the relatively distant past, two brand new ones will join the same top league in the world when they hear their names called in the draft this coming week.
In terms of future and current IU basketball news, the men had a big week of recruiting opportunities, and the women's side had several headlines as well. As usual, we'll wrap up with the Assembly Call show and how the Hoosiers fare in other sports.
• Thomas Bryant wins the NBA championship
• Hood-Schifino, Jackson-Davis will be drafted this week
• Recruitment update
• Women's basketball on a trip abroad and appoints a new assistant
• Assembly call radio
• Hoosier Roundup
Banner #1 – Thomas Bryant Wins NBA Championship
When the Miami Heat took on the Denver Nuggets for the NBA title, a former Hoosier was guaranteed a championship ring. This is because the Heat players included Victor Oladipo (who is out with an injury) and Cody Zeller (who played a small role throughout the playoffs). Meanwhile, the Nuggets boasted Thomas Bryant and Jared Jeffries, who are scouts for the team.
In the end, it was Bryant and Jeffries whose team was declared the top dogs in the NBA after winning four games to one in the Finals. While Bryant did not see action in any postseason contests, both he and Jeffries can be seen celebrating the title in the locker room after.
Banner #2 – Hood-Schifino, Jackson-Davis to draft this week
With the NBA season over, the draft is less than a week away. For the first time since Romeo Langford was taken in 2019, a pair of Hoosiers will hear their names called in 2023.
Both Jalen Hood-Schifino (who was honored with a invite to the Green Room) and Trayce Jackson-Davis will be selected at some point next Thursday night (8 p.m. ET on ESPN). The last time more than one former IU player was drafted was in 2017, when OG Anunoby and Bryant went with the 23rd and 42nd picks, respectively. Next week will also mark the fifth time since the 21st century began that multiple Hoosiers will be taken.
CBS Sports' false draft from just a few days ago would be ideal for Indiana fans if it came to fruition. It has Hood-Schifino going 14 to the New Orleans Pelicans. But the projection that will excite IU partisans the most is that Jackson-Davis would say home and be picked by the Indiana Pacers. Jackson-Davis grew up in the Indianapolis suburbs, and his biological father Dale Davis was a regular starter during the Pacers' prime through the 1990s.
In the meantime nbadraft.net has Hood Schifino slightly lower at 16 for the Utah Jazz. They also have Jackson-Davis a bit higher at 19 for the Golden State Warriors.
Banner #3 – Recruiting Update
Turning from former Hoosiers to potential future ones, it was also a big week for recruiting. First of all, Indiana had two big 2024 prospects on campus this week for official visits in the Tyler Betsey and Boogie Fland. Betsey ranks as a four-star player on No. 27 while Fland is in Top 10 and a five-star per 247Sports.
Last week was also the first time teams could contact 2025 players directly. Inside the hall, a video of highlights for the target Trent Sisley had in the state, who is one of the best players in the class. ITH also released highlights for several guys in 2024, including Betsey, Liam McNeely, Austin Swartz, and Caleb Williams.
As for the immediate, IU still has a scholarship open this fall, and it's unclear if they'll use it. It doesn't go to Linton's Joey Hart, though committed to Kentucky on Saturday.
Banner #4 – Women's basketball to take overseas trip and appoints new assistant
Women's basketball also had more news value this week. First of all, IU will take one foreign travel to Greece from 1.-10. August for exhibition games in preparation for the 2023-2024 season.
So was Amber Smith named as an assistant coach this week to fill the role of Glen Box, who took the head coaching job at Miami (OH). Smith comes to Bloomington from Lexington, where she served on Kentucky's staff for several years.
Finally, both Yarden Garzon and former Hoosier Aleksa Gulbe are competing in the FIBA ​​games for their home countries. Garzon is part of the squad for Israel and scored 13 points in his first game against Belgium and 15 in the second against Italy. Also transferred to current Indiana assistant Rhet Wierzba see her play there. Meanwhile, Gulbe is competes for Latvia.
Banner #5 – Rally Call Radio
Assembly Call was on the air this week with its Thursday's radio program. On it, Jerod Morris and Brian Tonsoni discussed how minutes will be distributed among the team for 2023-2024.
Banner #6 – Hoosier Roundup
• Volleyball released its upcoming fall schedule and had two players named to the collegiate national team.
• Baseball had four players announced as ABCA All-Region.
• Former football Hoosier Aiden Morris was named to the USMNT Gold Cup roster.
• IU's Peacock Golf Course what honored as one of the best courses in the state.
• Men's golf added a transfer.
• Women's tennis Received an ITA Regional Ranking.
• Hoosier legend Viola Taliaferro Passed away last week.
Thank you for your continued support of The Assembly Call and Inside the Hall. We'll be back next weekend with a new overview.
Now go and treat yourself to a 6-Banner Sunday.
Aaron (Ari) Shifron
Contributes to assembly calls
Filed to: